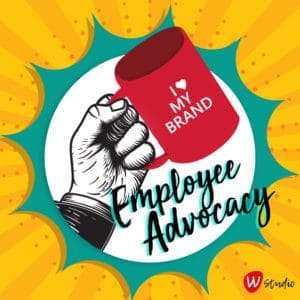 EMPLOYEE ADVOCACY IN PRACTICE: HOW ARE BRANDS USING IT?
In our previous article, we had looked the benefits and challenges of employee advocacy: how can businesses get employees to become their digital ambassadors, in particular on social media, to increase brand awareness and humanize their brand image? As real and trustworthy points of contact, how can employees amplify brand voice and make it more human?
In theory, the benefits of employee advocacy for businesses are manifold: brand recognition, better in-house communication, professional well-being, improved employment brand. But in practice, which ways and means must an employee advocacy strategy comply with to be successful? And by which criteria should we judge its success?
AMAZON AND ITS "BOT ARMY": A #FAIL OF EMPLOYEE ADVOCACY
As discussed previously, employee advocacy must be designed as a long term, structured program, where individual initiatives get enough leeway – otherwise it runs the risk of looking like unabashed corporate propaganda. Let's take the example of Amazon. Employee advocacy seemed the perfect opportunity to restore its image, which had been badly tarnished by accusations of excessively low salaries and poor working conditions, in the media and on social media. Not a bad idea per se: who is in a better position to talk about Amazon's working conditions, but its own employees? If they said As long as they talked positively about them… which is what must have worried Amazon and made them design an employee advocacy program where no room was left for spontaneity.
Amazon created 14 dedicated Twitter accounts managed by employees who were volunteers and only received some benefits such as an extra paid day off, a gift card and a free lunch. All the accounts had the same background picture (the Amazon smile logo on an orange background), the same kind of Twitter handle (@AmazonFC… followed by the person's first name) and the same structure in their Twitter bio (occupation, @warehouse number, number of years in the company), "Amazonian" and a list of hobbies.
Because of the uniformity of these user profiles, internet users soon mistook these FC Ambassadors (FC standing in for Amazon's Fullfillment Centers) for a "bot army" serving Amazon – an impression that was reinforced by the fact that they would only tweet to defend Amazon whenever the company was being criticized. Their tweets were written in a contrived style and sounded as if they had been dictated by Amazon's RP people. For instance, in reaction to a tweet begging Amazon to increase their wages, an FC Ambassador tweeted:
Did you know that Amazon pays warehouse workers 30% more than other retailers? I feel proud to work for Amazon – they've taken good care of me. Much better than some of my previous employers.
Another FC Ambassador replied to a tweet criticizing Amazon's CEO Jeff Bezos and the potato coach effect of e-commerce:
I love "couch shopping!" It's ALMOST as much fun as being here at work in the FC. As a picker, we get to see all the unique things people purchase. It keeps the night interesting, waiting to see what is going to come across my screen next.
It is easy to see how the ambassadors' scripted and superficial replies were soon ridiculed by internet users and only served to even further stain Amazon's brand image. However, this employee advocacy program would just have needed a few twitches to hit the bullseye: Amazon could have succeeded in its endeavor by resorting to his employees own personal accounts instead of creating new ones (so its message would have benefited from their existing followers base, while avoiding the "bot army" effect); by giving its ambassadors some leeway in their replies to make them sound more authentic; and by having a more balanced editorial strategy, instead of only posting to defend the brand.
STARBUCKS' PARTNERS
Unlike Amazon's FC Ambassadors, Starbucks' Partners were fully involved in the company's employee advocacy strategy. Starbucks was able to integrate three key aspects that were overlooked by Amazon: publishing from employees' personal accounts, spontaneity and authenticity. Employee advocacy is part of Starbucks DNA; in Onward, Starbucks' CEO Howard Schultz, refers to employees as "the true ambassadors of our brand, the real merchants of romance and theater, and as such the primary catalysts for delighting customers." Starbucks' employees – its "Partners" to use the brand's terminology – are encouraged to freely share their daily work experiences on social media. This is actually the first recommendation in Starbucks' social media guidelines:
Share your passion. We're called partners, because this isn't just a job, it's our passion. So, go ahead and share it!
In addition to the brand accounts, Starbucks also manages "Starbucks Partners" accounts on Facebook, Twitter and Instagram. But what really stands out is the many posts from Starbucks employees themselves. The search results for the hashtags #tobeapartner and #starbuckspartners show how successful their employee advocacy program is: selfies and group pictures of smiling people wearing Starbucks uniforms, friendly messages addressed to barista coworkers, republishing of job offers, articles on Starbucks ecofriendly initiatives… A lot of happy messages, but not only: Partners also share on social media their experiences with difficult clients, the strain of a particularly hectic shift… But those negative posts only give more value to the positive ones, because they show that they are authentic. Reading all those posts globally give a good image of Starbucks as an employer, by showing a community of employees who seem to be having fun at work and who stick together.
REEBOK: "BE MORE HUMAN"
It would have been a great loss for Starbucks to miss out on the opportunity to amplify its brand voice by a community of employees that is not only substantial (27,000 employees in 2017, with 185,000 in the US), but also in major part made of millennials, for whom social media are like second nature. Reebok is another brand that was able to identify a strong potential of digital ambassadors in its employees and to make good use of it. The launch of Reebok's employee advocacy program in February 2014 concurs with its new brand positioning and its "Be More Human" campaign: it meant to bring to the foreground everyday sport enthusiasts, and not only pro athletes. Who is the best embodiment of this "commitment to exercise as a way of life"? Reebok's employees, of course! Who, moreover, were already very active on social media. The challenge was less for Reebok "to get people to share them doing physical activity on social media", but how to "bring it closer to the brand and tie it into [the] brand mission."
To carry out its employee advocacy program, Reebok used SocialChorus, an app enabling employees to easily share the articles and blog posts created by the company. Reebok created an Employee Instagram Takeover Program, giving carte blanche to an employee to post on the official Instagram account of the company. They also set up a provocative hashtag, #FitAssCompany, that served to better spread the message as well as monitor employees' publications. Reebok says that the involvement of its team in those different initiatives was linked to the fact that everybody yearns to be a "mini-celebrity" and to increase their number of followers and likes. The success of the message was of course fostered by the adequation between the brand message and the demographic profile of Reebok's employees, who happened to be its dream digital ambassadors; but it was also furthered by the transparent, spontaneous and sincere approach of its e-advocacy program. Reebok insists that they "always ask people to be very forward about their involvement with the brand and that they're an employee of the brand… We're not trying to fool anyone." Reebok did not recoil when it came to letting its employees speak freely, including in its own communication channels, as in the case of the Instagram takeover. They were able to produce a message that is all the more sincere that it truly matches the lifestyle of its ambassadors.
EA: E-ADVOCACY GAMIFIED
Just like Reebok managed to take advantage of the demographic profile and hobbies of his employees to design an ambassador strategy in accordance with its new brand image, EA (Electronics Arts) managed to invent an e-advocacy program that matches its corporate culture and its branch of activity, by using a "gamification" of content sharing – sharing content being presented as a game, with a competitive aspect. EA's objective was twofold: on the one hand, improve its reputation and promote itself as an employer to facilitate talent acquisition; on the other hand, foster corporate culture within its teams and create interactions between the staff of different countries, who seldom had opportunities to communicate with each other. With the help of the app EveryoneSocial, EA's employees were encouraged to share content related to their professional experiences on social media, as well as news tied to consumer events or big product announcement. Each month, EA varied the different behaviors that were rewarded: either the employees with the quickest posts, then the ones with the highest engagement rates, etc. A sweepstake was also organized every month for the employees who took part in the program. EA claims that this employee advocacy program was successful in attaining the goals that had been set by the company: connecting with its community of players, through increased engagement on social media, and connecting with its community of employees, who are now communicating with one another on a daily basis – both inside the EveryoneSocial app as well as on social media. By sharing their professional experiences and career development on social media, employees who took part in the program also helped building a stronger talent acquisition community.
Those different use cases can show how, in order to be successful, an employee advocacy program must be designed as a true strategy that takes into account corporate culture and brand image, as well as the country's culture – it is no coincidence that these success stories took place in the US where there is a strong corporate culture with a lesser weight of hierarchy and where people might feel less inhibited to speak up than in Europe. Having the relevant human and material resources to implement an employee advocacy program is paramount, as well as making room for authenticity, transparency and trust in your employees.