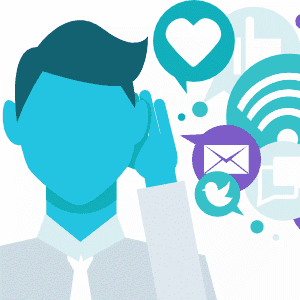 HOW SOCIAL LISTENING SHOULD HELP SHAPE YOUR MARKETING STRATEGY
When it comes to digital marketing strategy, today there is no way around social selling and social listening for major brands. As discussed in our previous article on social selling, those two concepts go hand in hand without being identical. This article will focus on social listening: how do brands use social listening to identify prospects, turn them into actionable leads and take strategic actions? 
What the heck is social listening? 
Social listening is a form of digital marketing intelligence which consists in monitoring online social conversations on a given topic – whether a brand, an industry or any other theme. Using social listening platforms, brands can extract the relevant data from social media, blogs, forums or websites. Analyzing this data can provide a granular understanding of consumers' online conversations – including those that only mention the brand indirectly and those that relate to competitors and the brand's industry. 
Putting brand mentions in context to identify prospects 
Platforms such as Sprinklr and Radarly (by French start-up Linkfluence) now offer social listening modules. How does it work? By relying on keyword lists, those technologies can track and monitor all the conversations that associate on the one hand specific subjects (cars, jewelry, extreme sports, perfumes…) or keywords (C3, bracelet, freestyle football…); and on the other hand, phrases or sentences expressing a buying intention ("I want to buy…", "how much does x cost?", "where can I find…", etc.). Thanks to social listening, companies can now put into context their brand mentions and identify new prospects. Social listening can also help brands spot their major detractors (even if they are not directly mentioning their brand), learn which keywords are most frequently associated with their product and which hashtags are mostly used by their competitors. 
Social listening proves to be an answer to some key marketing challenges: 
assessing the overall health of a brand

 

creating content for different types of audiences

 

generating ideas for a marketing campaign

 

improving customer experience

 

creating product strategies.

 
Social listening in practice 
Let's look at an example of how social listening could be applied to a brand strategy: I am SoGlüd, a gluten-free cupcake shop. Every Friday, SoGlüd sells a special lemon Friyay'cake. It turns out that for this specific recipe, the lemons are provided by another supplier than my usual one. After this Friday, my listening platform starts tracking several conversations on social media where clients complain about my products' quality. I offer them to refund their Friyay'cakes as a compensation, which solves the problem I just encountered (this is called 'monitoring'). 
The following Friday, similar complaints reappear: my listening platform is tracking social conversations where the same critics are expressed about my Fri'yay cakes. I am made aware of the problem, and as this tendency seems to be confirmed from one week to another, I realize that there must be a problem with the Fridays' deliveries of lemons. I can then contact my supplier and notify him about it. Thanks to the monitoring of social conversations, social listening has enabled me to identify and solve the problem, to manage efficiently my customer care and to improve the quality of my products. 
Brands now have the opportunity to know their consumers better and to identify market opportunities using data extraction from social conversations and data analysis. Major companies like McDonald's or Santander in the banking sector, who both use the social listening tool provided by the Sprinklr platform, have already jumped on the social listening bandwagon. Social channels act like amplifiers for public opinion and brands cannot but take them into account. Together with some good SEO acquisition and social advertising strategies, social listening can be a great tool to capture a non-negligible number of consumers.