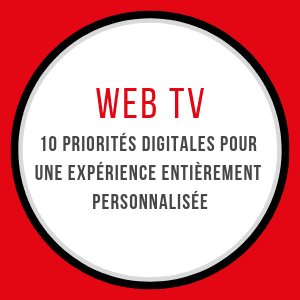 WEB TV- 10 TRENDS FOR A FULL PERSONALIZED EXPERIENCE
Waisso is a partner of the WebTV "Innovation & Cross-media", realized by Majda Chaplain (MC Factory), and dedicated to the marketing and digital news of the brands.
Meeting the expectations of hyper-connected consumers, knowing how to exploit the data explosion to offer a hyper-personalized customer experience are the key issues for brands for the coming years.
But this personalization, a vector of acquisition, commitment and loyalty unparalleled, can not be achieved without a real questioning of current business models.
For this 49th "Innovation & Cross-Media" program, 4 experts unveil their vision for a resolutely personalized marketing:
Julien-Henri MAURICE, Marketing & Digital Director of BazarChic
Olivier Roche, Digital Director of TUI France
Deborah Weyd, Global Digital Media Manager of Eurostar
Grégoire Argand, Digital Director, Marketing & e-commerce of Pepsico France
and share their 10 marketing and digital priorities to successfully drive a truly unique Personal Experience and preserve the relationship that links them to their consumers and customers.