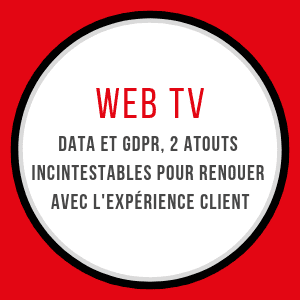 WEBTV – DATA & GDPR, 2 INDISPUTABLE ASSETS FOR REVIVING THE CUSTOMER EXPERIENCE
Waisso is a partner of the "Innovation & Cross-media" WebTV, produced by Majda Chaplain (MC Factory) and dedicated to the marketing and digital news of the brands.
How can we offer a seamless customer experience, supported by all the cross-channel interactions that may have taken place throughout the client life cycle and their Customer Journey? 4 brands that have succeeded in mastering Data give their testimonies at the 52nd "Innovation & Cross-media" round table discussion, produced by MC Factory in partnership with Waisso.
How does data make a difference with consumers who are overloaded with offers and in the face of tough competition? What types of data are gathered and what for? How do you get a real 360° overview of the client? How does data affect campaign performance, customer experiences and service-related and product innovations? How do you coordinate data in compliance with the new GDPR regulations? What is the right type of organisation? What are the new applications to be created with Data?
WebTV debate with:
Hervé Kozar: Chief Commercial Officer of Transavia France;
Stéphane Père: Chief Data Officer (Global) of The Economist;
Agnès Vissoud: Digital Experience & Performance Director of Louis Vuitton homeware;
Mathieu Gras: Data & Customer Experience Director of the French Tennis Federation.