Nowadays, the digital customer acquisition ecosystem is so large, that it becomes difficult for advertisers to get a complete and effective view on it. As consequences, it led to only consider customer relationship through e-CRM, with a risk of reducing their audience and their attractiveness.
The competition is, first of all, happening on the acquisition channels. Digital media budgets progress each year, exceeding those according to the TV channel. However, it should be noted that Google Adwords and Facebook share most of the market between themselves and this position tends to strengthen with The General Data Protection Regulation (GPRD). In this context, SEM approach is one of the main pillar of Waisso's acquisition expertise.
SUPPORT OF YOUR DIGITAL STRATEGY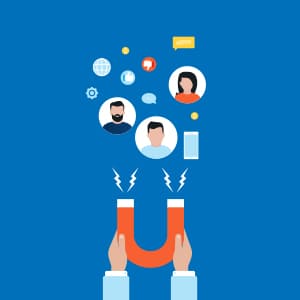 Beyond being able to detect the potential customers intention, it is the complete advertiser's
marketing mix
that should be oriented and organized to
reach the business goals
. Thanks to strong knowledge and structuration of the data, Waisso advises and operates
360° acquisition strategies
for its clients, ranging from catching prospects to loyalty, through on-site animation.
In the end, the main challenge is to improve the relevance of marketing touchpoints and optime contact points with the brand audiences. To do so, Waisso implement a transversal acquisition expertise based on 5 fundamentals, to support the advertiser's targets all along their digital experience.
ACQUISITION TOOLS EXPERTISE
In order to control and orchestrate the target's entire lifetime value, Waisso positions itself as a specialist on the whole chain of expertise.
SEO: Improving your website organic indexing
SEA: Capture of intentional audiences and pay back with a multi-channel approach SEA – SEO – Social paid.
Social Ads: Using social media data to attract a specific audience
Display: Use of programmatic as a customized approach to generate leads and traffic.
Audiences management: Identify, reconciling, split, and activates targets in an efficient logic using DMP and CRM on-boarding tools.
Analytics: Measure and optimize customer experience through analytics tools.
Marketing-mix: Orchestrate the digital acquisition strategy by iteration in order to improve the digital channels performance by well-driven data management.
B2B: Strategic recommendation and B2B lead campaign management via marketing automation process
Waisso supports its customers in the definition, implementation and management of their digital acquisition strategy  with well-proven and reliable process:
Initial statement of requirements and needs
Audit of the existing and quick wins
Benchmark of the technological ecosystem
Strategic advice and recommendations
Help with the choice of publishers/solutions
Production and definition of media plans
Implementation of digital assets in the brand universe
Set-up and settings of the acquisition tools
Piloting in test and learn approach
Performance measurement and monitoring
Optimization of the analytics tools
Attribution view
Certifications