WEB ANALYTICS OPTIMIZING CUSTOMER EXPERIENCE
The sharp analysis of traffic data and the interpretation of reports allow to highlight the optimization areas for the performance of the site and / or digital levers. Today, all advertisers have at least one web analytics tool (Google Analytics, AT Internet, Adobe Analytics).
But what about its use :
Is it set up correctly and do all the data come back correctly ?Is the tracking plan optimized ?
Are the bridges with the business ecosystem built (emailing platform, CRM, datalake …) ?
Are your users reconciled with your marketing database ?
Are marketing campaigns taken into account and optimized ?
Is the user experience measured ?
Are dashboards automated ?
WEB ANALYTICS EXPERTISE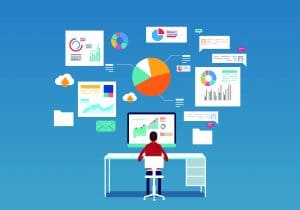 So many questions that need to be asked in order to ensure a calm management of your action plans.Once the data has been collected, it is important to ensure its identification and segmentation to put data at the heart of the brand strategy.To ensure the reliability of this web analytics database, Waisso assists you in the deployment & audit of your web analytics tool up to its configuration and upgrade.
Our goal is to ensure the accuracy of your data and to give you the means to track precisely your KPI, allowing you to focus on their exploitation. Having optimized analytics is a prerequisite in a strategy of refining customer knowledge and SEM investment.
Our fields of intervention
OUR SUPPORT IS TWOFOLD:
Reliability of the data
Audit
Verification / homogenization of tracking – tagging planThe configuration of the analytics tool
Product associations (adwords, search console …)
E-commerce follow-up
Tracking events and goals
Mechanics of reconciliation of Internet users and contacts in marketing databases
Channels of attribution
Maintenance and follow-up / Training with the tool
Advice on using the data for decision making
Interpretation of data
Dashboards
Management assistance
Recommendations and good practices
Customer path analysis
Optimization of advertising budgets


CERTIFICATIONS