SHAPE EFFECTIVE SOCIAL MEDIA STRATEGY AND INCREASE YOUR ROI
Every month, more than 3 billion people are using social networks to communicate with each other's and with brands all over the world. From 2018, 3,196 billion social media users are accounted for and this number have soared by 13% over last year. "Social media is not a few websites.
It's the state of the internet right now." All media today is social, it's personal. It's integrated into everything we do, and everything on internet. So being on social media networks is not a long-term fad or annoying trend, it's being where your target audience is.
SHAPE YOUR SOCIAL MEDIA STRATEGY TO INTERACT WITH YOUR CUSTOMERS AND PROSPECTS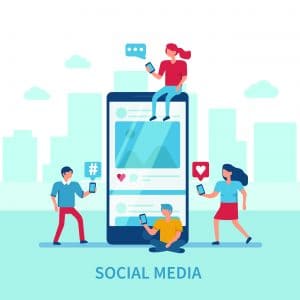 Social media are a tremendous opportunity to interact with customers, prospects and public, to make its brand and products known, to better know the customer to anticipate their future needs and offer them a right and personalized content. Interactions through social networks are ways to inform, communicate or even buy, creating traffic to websites and physical shops.
Companies also use these interactions as levers to improve their brand awareness and image. All along the customer journey, the interactions need to be fully integrated to the cross-canal strategies (acquisition, animation, loyalty, customer retention et.) to adapt to customer needs, propose the best customer experience and be more competitive.
A BUSINESS AND TECHNOLOGIC EXPERTISE TO PROVIDE A PERSONALIZED SUPPORT ON YOUR SOCIAL MEDIA STRATEGY
Strong of its digital agency expertise, WAISSO offers a social media expertise based on strategy, test & learn, data and personalized content. The social media team, composed with experts from different industries, will use its experience to design, deploy and lead your social network strategy on the different platforms such as Facebook, Instagram, Twitter or LinkedIn.
Our fields of expertise :
Audit and social media strategy: Before everything else, we will immerse ourselves into your accounts to get an idea of what has been tried in the past and where successes and failures came from. This will give us an idea of where to start and will allow us to get the best strategy moving forward, what platforms we should activate most, and the proper campaign objectives.
Social listening & e-reputation: Our experts team will not only be looking at your accounts but also will make a competitive intelligence every day to optimize your campaigns and ensure that we are maximizing performance. Whether its running A/B Test or testing a new platform, you can be sure WAISSO is maximizing your budget.
Develop Employee Advocacy: your collaborators as brand advocates
Community Management: We will define with you the editorial calendar, content creation (texts, visuals, videos etc.), community management, customer care, employee advocacy, analytics and improvement recommendations.
Paid Media and Sponsoring: We will build precise target audiences that will help you to drive results at the most efficient rate possible, and will constantly refresh them to ensure there is no audience depletion.
Reporting and analytics: Having regular reporting even on the most specific data will allow us to share overall account performances. Show the means and processes we have put in place to achieve your business goals and to ensure that we are reaching the target in an effective way.
Setting up and support: WAISSO will bring you all the support in choosing the best social media tool, adapted to your strategy and all your prerequisites. Technical support will also be provided.
Training and support: Our training services will give to you and your team the confidence to reach the social media goals you have setup through technical and strategical training. Our team is there to provide you best practices in social media.
Our partnerships and expertises :
Source : Global Digital Report 2018