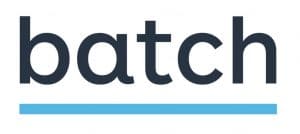 Batch.com is the leader in push notifications and mobile CRM. Thanks to a great orchestrating platform of CRM campaigns on iPhone, Android and browsers, brands can communicate better in a personalized way with their customers within their smartphone applications. They can minimize their churn and boost their ROI.
Batch.com is based on a simple observation: when they are well-developed, smartphone applications are probably the biggest opportunity to create engagement for all brands in a process of digitalization.
Nevertheless, there are only a few applications to make themselves way up on the first page of a smartphone. Brands who use this exceptional channel of communication often suffers from a high rate of churn. Primarily because applications communicate poorly or too little with their users.
That's why Batch.com's mission is to help all brands and mobile publishers maximize their activation and retention rates: from the first minute of use to every step of the customer life cycle, and throughout the funnel of conversion.
To do so, Batch.com has developed the leading analytics & CRM platform on push notifications, in-app messaging and web push, which cleverly personalizes mobile communication and automates best practices.
Batch.com allows increasing on average the commitment rate at D + 30 of + 70% and the retention after 6 months of + 100% thanks to a good use of the push notifications, the in-app messages and the push web. Moreover, thanks to its dedicated support, Batch.com provides to its customers, opt-in rates with push notifications greater than 70.
WAISSO EXPERTISE – BATCH.COM: A CERTIFIED EXPERTISE. A PLATFORM PERFECTLY CONNECTED TO OTHERS CLOUD MARKETING SOLUTIONS OF THE MARKET.
Thanks to its structure based on modern real-time APIs, Batch.com has been designed to easily connect to email marketing's platforms, DMPs and customer-oriented CRM.
WAISSO supports clients on:
Batch Integration in Adobe Campaign (ex-Neolane)
Batch Integration in Oracle Eloqua
Every project requiring an expertise on SaaS Batch.com solution (feasibility study, setup, training, consulting)
Piloting projects that require interfacing
Batch.com APIs with a third-party solution.
Production of marketing campaign
Thanks to WAISSO's expertise, the creation and maintenance of these Batch.com connectors allow all market players to keep their solutions perfectly interconnected at any time, while enjoying from the advantages of a natively mobile-first platform and leader on push notifications.
Batch.com's features:
CRM mobile marketing dashboard
Modern options for previewing campaigns
Push marketing notifications (advanced targeting)
Transactional push notifications
In-app message technology (responsive)
Push web technology on browsers
Marketing automation (recurring campaigns or trigger)
Unified and segmentable mobile client base
Geotargeting (GeoIP, GPS coordinates, ZIP codes)
Mobile analytics (cohorts, engagement, churn)
Many APIs (customer data API, segments API)
Numerous native connectors (DMP, CRM, Analytics)
Bank level security, 100% GDPR-compliant