Break the « funnel » in your company with Salesforce Social Studio!
Salesforce Social Studio is a product under the Salesforce Marketing Cloud that administers your marketing strategy across all social media channels.
Salesforce Social Studio allows you to listen, engage and publish on social networks. This integrated solution also unifies your marketing strategies between your vendors and your customer care service.
Social Studio has 4 major features, also available on its mobile application: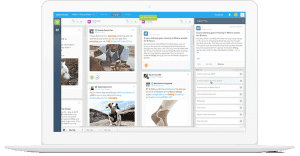 Publish on social networks: Salesforce Studio is a collaborative and secure tool. It helps you develop, share, plan, evaluate and approve your content. Workspaces have specific access depending on the role of your employees.
Engage your community: respond to posts posted on social networks, manage your community and offer customer support. With its machine learning technology, the platform can evaluate the feeling of each message.
Listen to the conversation: Listen to conversations on social networks to help you identify new trends. Be attentive to the feelings of your customers by looking to the mentions of your brand in real time. You can research your brands but also products, competitors and other topics of the market.
Follow-up with a single interface: Salesforce allows you to easily implement a one-to-one strategy. Simply analyze your marketing activity and create reports with the analysis dashboard. Compare metrics in real time by adding filters.
WAISSO is a privileged partner of Salesforce Studio in several domains:
Training of our clients and their service providers.
Definition of a social media strategy using Salesforce Studio and then its implementation
Support to social marketers in the management and optimization of their platform