TinyClues is a Parisian start-up specialized in the predictive targeting of marketing campaigns, focusing on artificial intelligence (AI) to understand the low signals of the potential buyers to allow the announcers to realize a targeting with a brand-new precision, based on the promoted product.
TinyClues develops an AI platform which allows the marketing teams to target and to personalize their communication, as well with their customers as with their prospects. For that purpose, the solution dwells on algorithms of deep learning which can detect the future buyers of any product, even in the absence of explicit intention.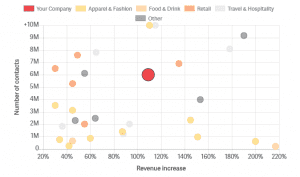 Indeed, this highly technological solution with a system of calculation based on a non-supervised multi-layers apprenticeship that allows to detect in databases customers (hundred PetaBytes), the overalls of small indications (= literal translation of "Tiny clues" in French) which are going to predict purchasing behaviors. The impact for Tinyclues customers is very significant with on average a 49 % sales growth.
TinyClues mission is to allow the marketing specialists to arouse a long-lasting commitment of their customers and to generate additional income, without damaging their customer capital by an excellent management of the commercial pressure.
Use of the tool:
List products to put forward in your newsletter (empty stocks, promotions, new products, etc.)
Who are the people in my database and what are the most susceptible to be interested in these products?
Predictive targeting sent to CRM, containing the most appealing individuals to selected products
Adapting the marketing mailing schedule
WAISSO intervenes on:
Connecting Tinyclues with the marketing campaign management tools (Adobe Campaign ex-Neolane, Selligent, SalkesForce Marketing Cloud, Oracle Eloqua…)
Any type of project requiring expertise on the SaaS Tinyclues solution (feasibility study, setup, training, advice)
Any type of project requiring Tinyclues APIs to be interfaced with a third-party solution
Delivering marketing campaigns