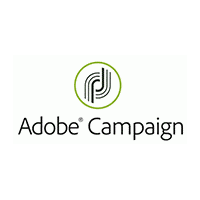 Adobe Campaign (formerly Neolane) is the
leading relational marketing
campaign management
solution that lets you coordinate and deliver consistent multi-channel campaigns in environments with high functional requirements in terms of customer interaction and featuring large contact volumetrics (B to C, B to B to X, B to E, etc.).
Adobe Campaign (formerly the Neolane software solution) is part of the Adobe Experience Cloud package.
Faced with an explosion in the number of channels, an upsurge in interactivity and new consumer requirements, CMOs are looking to real-time conversational marketing technologies to create and optimise continuous one-to-one dialogue at every stage of the customer journey, with the aim of enhancing performance and impact on sales.
MANAGING MARKETING CAMPAIGNS WITH ADOBE CAMPAIGN
Centralise and consolidate your existing and prospective customer business data
Plan and run cross-channel campaigns automatically in real-time from a unique environment
Manage plans, proposals, activities, budgets and results
Communicate individually with customers from a centralised profile and access preferences, purchasing behaviours and loyalty, etc. in real time.
A long-term partner to Neolane, since 2004, and now a certified Adobe Campaign partner, WAISSO helps marketing and digital divisions to optimise and coordinate their acquisition, loyalty and retention campaigns across all channels – email, mail, call centres, mobile devices, web and social – using Adobe Campaign.
Wielding expertise in PRM and CRM acquired with more than 200 customers including major retail advertisers, players in e-business, banking, insurance, tourism, industry, etc. in France and internationally, WAISSO consultants cover every step necessary for a relational marketing campaign to succeed:
Pre-project tasks like collecting the target marketing IS requirements,
Personalising Adobe Campaign, creating a marketing datamart, integrating it into the customer IS and deploying it,
Module implementation: Survey, Message Centre, Distributed Marketing, Content Manager, etc.
CRM and PRM strategy consulting and recommendation, marketing department organisation, marketing performance optimisation
Assistance in segmenting, scripting, and implementing marketing campaigns and their operational performance
Increasing the reliability of the Adobe Campaign platform and its input data flows as part of Third Party Application Maintenance
WAISSO also interfaces ADOBE CAMPAIGN with all modules in the ADOBE EXPERIENCE CLOUD suite.