SalesForce Marketing Cloud is the market-leading marketing platform for B2C-oriented customer journeys. This Salesforce tool promotes customer insight, customizes every interaction with the AI and guides you through the entire process. This solution is for businesses that are primarily dealing with individuals and want to send personalized e-mails in large volumes.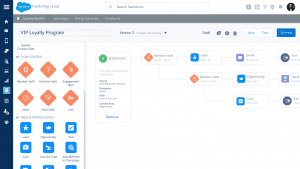 Salesforce Marketing Cloud (formerly Exact Target) can be installed independently of the publisher stack.
With SalesForce Marketing Cloud, you can:
Communicate with your consumers where they are (by email, mobile device, Internet).
Propose personalized recommendations, reminders and discounts.
Listen to what your customers are saying on social networks and respond to their needs, including providing real-time customer service.
Increase your reach and meet new audiences.
Provide a personalized and seamless experience through corporate marketing and local partner networks.
Enrichment of customer knowledge via the collection of its web browsing through the connector of our Google Analytics partner that you will find on the AppExchange.
Sensitive to deliverability issues, the platform allows to integrate ReturnPath a partner solution that you will find on the AppExchange.
Our consultants support you
Upstream of the project, writing the expression of the marketing needs and design of the Target Marketing SI
Customization of Marketing Cloud, creation of the marketing datamart, integration in the customer's IS and deployment
Advice and recommendation of strategies, organization of the marketing department, optimization of marketing performance
Assistance with segmentation, scripting, implementation of marketing campaigns and their operational execution
Reliability of the platform and its feeds as part of a TMA